Notice of Scheduled Maintenance
Dear Our customers,

The system maintenance will be conducted from 9:00 PM, October 24 to 9:00 AM, October 25 in the Japanese time.
*The schedule may be subject to change.

During the period, you will not be able to send inquiry from our website.
Please kindly contact us after the maintenance is over.

We are sorry for the inconvenience it may cause.
Thank you very much for your understanding and cooperation.


Find Used Cars


New Arrivals
>> More

New Arrivals for Certified Vehicles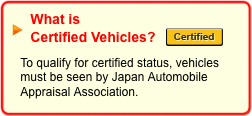 >> More

Buying Japanese Used Cars from Goo-Net Exchange Our mission is to make sure your purchase of Japanese used vehicles from Japan will be safe and secure. All Japan Used cars in stock are in"ready to GO" condition. Here for more information about buying Japanese imports from Goo-net Exchange.
Goo-net Exchange Information
Thank you for visiting Goo-net Exchange.


3/14 - We appreciate your caring and thoughtful phone calls and emails. As for KINGS AUTO CO., LTD., we are operating as usual.

1/20 - Now You can run a keyword search by model number!